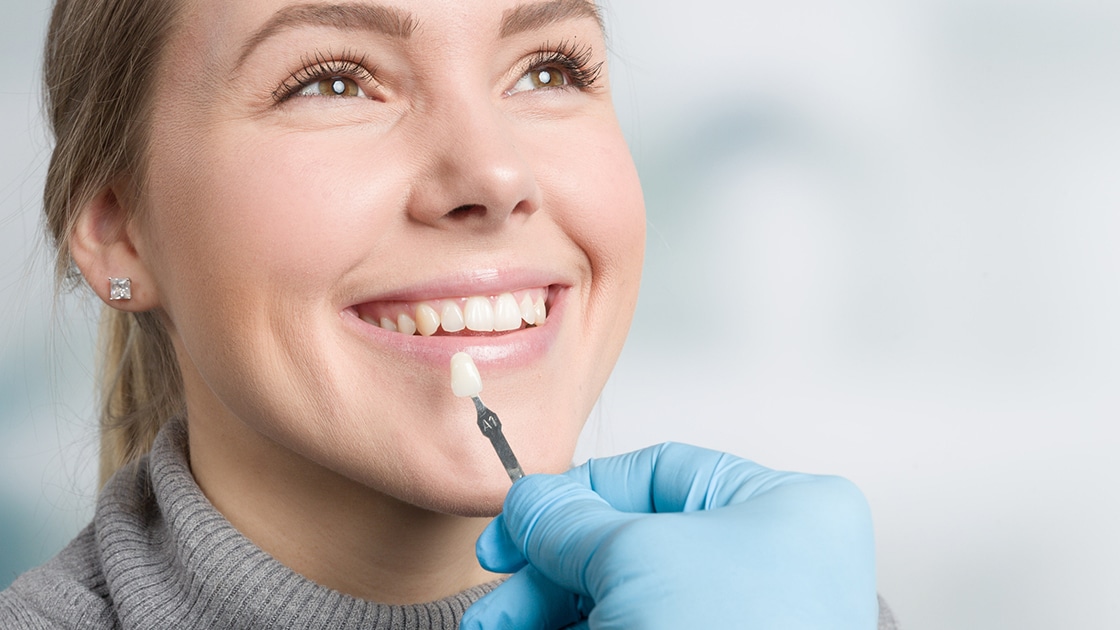 Blossom Dentistry provides porcelain dental veneers in the Foggy Bottom neighborhood of Washington, DC. Call us today at
202-922-2900
to schedule an appointment.
Dental veneers allow us to give patients a truly dramatic smile makeover, but they're also a fantastic option for correcting only a few teeth.

Veneers are made with a thin, tooth-colored porcelain material that covers the front of the tooth surface, wrapping around the edges slightly. We use dental veneers to correct the following cosmetic issues:
Yellowing, stains, and other discoloration
Gaps between teeth
Uneven tooth lengths
Chipped or cracked teeth
Slight misalignment of the teeth
Teeth shape and size
These issues can also be corrected by other cosmetic dental procedures, including teeth whitening, composite bonding, Invisalign, and crowns, so during your initial consultation at our practice, we will go over the various treatment options with you and determine which one will best meet your treatment goals and budget. While veneers are costly, they also produce long-term results and allow us to correct a number of different aesthetic issues all with one cosmetic treatment.
The first step in getting dental veneers involves removing a small amount of enamel from your teeth and taking impressions, which are used by a dental laboratory to create custom-made veneers that are the perfect size and shape for your mouth. When your veneers are ready, you'll come back to our office and we'll clean your teeth thoroughly to remove any plaque and tartar that could cause tooth decay under your veneers, then we shave more enamel from the surface. Local anesthetic is used to make sure you do not feel any discomfort during the process. Using dental cement, we apply the veneers to the fronts of your teeth and use an ultraviolet light to cure them. The curing process is completed in minutes; you can then leave our office and go back to work, school, and your other daily activities. 
Once your veneers are placed, maintaining them is simple. Brush twice a day and floss at least once a day. See your dentist every six months for exams and cleanings, and ask your dentist for a bite guard to wear at night if you clench your jaw or grind your teeth in your sleep. Avoid biting your fingernails, ice, or anything else that could damage your veneers. While it is very rare for veneers to break off of teeth, it can happen, especially if you don't follow these guidelines.
There are a variety of options when it comes to dental veneers. For the best results, invest in custom-made porcelain veneers. Inexpensive prefabricated veneers may cost less, but when veneers are not made to fit your specific teeth, the cookie-cutter results can appear fake, making it apparent that you have veneers. High quality porcelain dental veneers look extremely realistic, so no one will guess that they're not your natural teeth. You can expect your dental veneers to last anywhere between five and seven years for no-prep veneers and 10 to 15 years for traditional porcelain veneers.
Frequently Asked Questions
How much do veneers cost?
Porcelain dental veneers can cost between $925 to $3,000 per tooth. No-prep veneers cost around $800 to $2,000 per tooth.
How long do veneers last?
Traditional veneers can last 10 to 15 years and no-prep veneers can last usually five to seven years.
Do veneers ruin your teeth?
No, this is a common misconception. Only a small amount of enamel is removed prior to placement. Porcelain veneers do not ruin your teeth; they are designed to enhance your smile for a naturally beautiful appearance.
What can you not eat with veneers?
It is best to avoid biting into hard things with your front teeth when you have dental veneers.
It's not likely, but veneers can become loose and fall off. To minimize this risk, do not bite your nails or chew on pencils, ice, or other hard objects.
Is it painful to get veneers?
Typically patients are numb during the dental veneer procedure. There should be no pain once the anesthesia takes effect.
What are the disadvantages of porcelain veneers?
Veneers are usually not repairable should they chip or crack; instead they need to be replaced. It is important to be upfront with your dentist on what your goals are so there are realistic expectations about what can be achieved.
Do veneers feel like real teeth?
Veneers feel natural when in your mouth because impressions are taken from your own teeth in order to create them. Like anything new, if the size or shape of your natural tooth is being corrected then it may take getting accustomed to, but in a couple weeks' time it will feel normal.
If done properly, porcelain veneers will look just like your own teeth, but significantly improved.
If you are considering dental veneers to correct the size, shape, or color of your teeth, contact Blossom Dentistry today at
202-922-2900
to schedule an appointment for a consultation.