Foods To Avoid Eating With Invisalign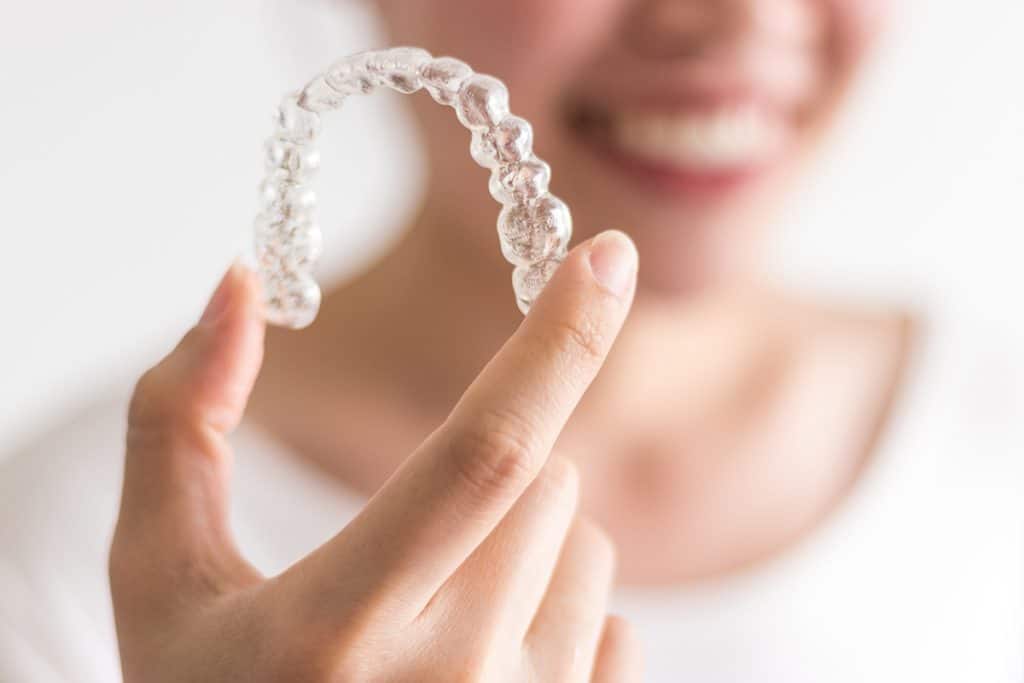 Invisalign offers patients the opportunity to obtain a straight, beautiful smile in a comfortable way. There are so many options on the market that are highly effective for your orthodontic needs, but none work quite like Invisalign.
You have the flexibility to go through the process discreetly while being able to remove them when you need to.  While you can still eat everything you want to - unlike traditional metal braces - there are still certain foods you may want to avoid.
Sticky Foods - Including Gum 
You never want to eat something that is sticky or chewy - including gum - while wearing your aligners. This can put your Invisalign aligners at risk of impairment. And, if they don't work properly, it can impact your overall treatment. It's just not worth the risk.
Things like gum, taffy, chewy candy, jerky and more should be avoided while wearing your aligners.
Crunchy or Hard Foods
While you are giving up sticky foods, you may want to let crunchy and hard foods go, too. Foods like popcorn, nuts, hard raw veggies like carrots, and even meat with bones in it should be avoided. Biting down on something hard could crack your aligners - and this will have an impact on your treatment, possibly even requiring you to invest in new aligners.
Remember, it only takes once. You may have eaten the same food several times without issue, but it only takes one bite for your Invisalign to crack. Don't chance it.
Foods and Beverages That Cause Staining
There are foods and beverages that cause staining to teeth. Things like coffee, tea, red wine, curry, foods with heavy dyes, and more can all cause your pearly whites to be shades of not-so-pearly browns and yellows.
When it comes to Invisalign, unfortunately, these things can also cause staining to your aligners. And, let's face it - you likely chose this route for your orthodontic treatment because it is discreet.
There is nothing discreet about stained aligners. Therefore if you would like your aligners to stay clear, then you may want to avoid consuming any foods or beverages that may jeopardize them.
Just Remove Your Aligners? 
One of the things that so many people love about Invisalign is that it offers you so much freedom. You can remove them whenever you want to - though it is recommended you wear them at a minimum of 20-22 hours every day.
So, when you sit down to a meal or even a snack, it is perfectly fine to take out your aligners and keep them safe from any damage. In fact, it is even recommended. Once you are done eating, simply brush your teeth (or, at the very least, rinse your mouth well), and put your aligners back in.
Learn More About Life with Invisalign
At Blossom Dentistry, we like to offer our patients options when it comes to their dental needs. When it comes to orthodontic treatment, Invisalign is a great choice. They come with so many perks that you don't get with traditional metal braces - and we'd love to talk to you about them.
If you'd like to learn more about Invisalign - or whether or not it would be a great fit for you - then contact our office today at 202-922-2900. Or, schedule an appointment online.
Recent Posts
Contact Us
Blossom Dentistry
2600 Virginia Ave NW Suite 501
Washington, DC 20037
Monday | 8am - 4pm
Tuesday | 8am - 4pm
Wednesday | 8am - 4pm
Thursday | 8am - 4pm
Friday | 8am - 4pm
Saturday | Closed
Sunday | Closed