How Do You Clean Invisalign Trays?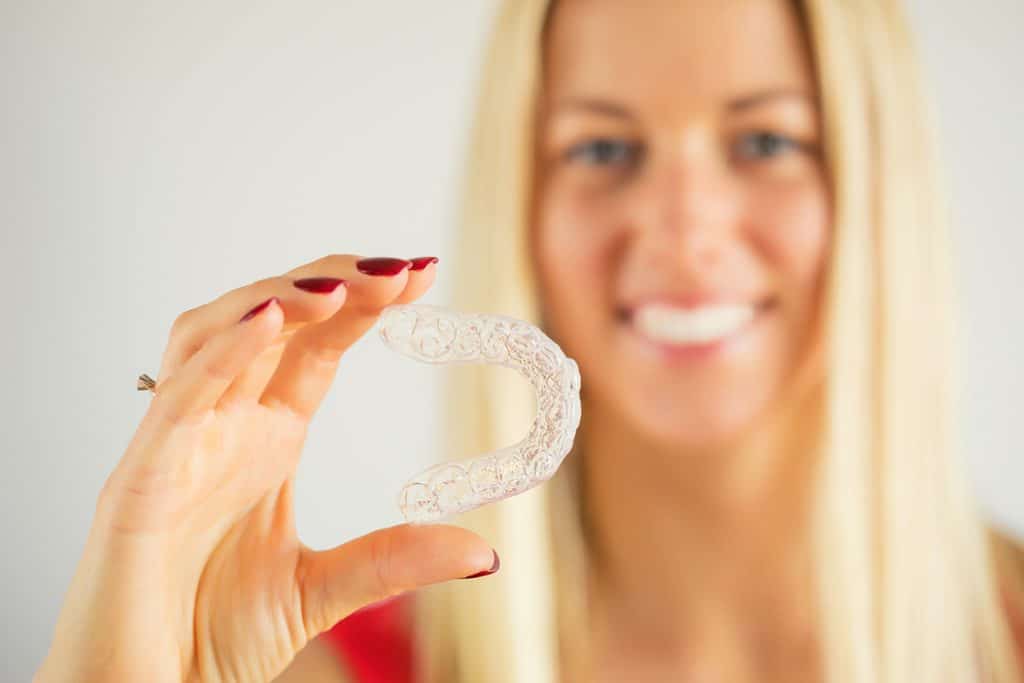 Invisalign treatment can deliver a complete smile makeover while accommodating the needs and lifestyles of busy patients. Fewer trips to the dentist are required than with traditional metal braces, and most patients have their new smile in less than 18 months.
For optimal results and good oral health, keeping the Invisalign aligner trays clean is essential. Read on to learn more.
What is Invisalign?
Invisalign is a system of clear, removable aligners that straighten your teeth without the use of metal brackets and wires. The aligners are virtually undetectable, so you can smile with confidence!
Invisalign uses a series of clear plastic trays custom-made to fit over your teeth. Each tray is worn for about two weeks before being replaced by the next one in the series. This sequence continues until you have achieved your desired result.
Invisalign works by shifting your teeth into place gradually and gently, allowing you to comfortably wear each tray for about two weeks before moving on to the next one.
Who Is a Good Candidate for Invisalign?
Invisalign is an excellent option for those who want to straighten their teeth but are concerned about the visibility of metal braces. Invisalign aligners are custom-made to fit your mouth perfectly and allow you to eat whatever you want.
Invisalign is ideal for patients who:
Don't want metal braces.

Are looking for fast, efficient treatment.

Need mild or moderate corrections or adjustments in their bite or smile.

Have crooked teeth but don't need significant dental or orthodontic work.
Why It's Essential to Keep Your Invisalign Trays Clean
Invisalign trays are easy to clean and maintain, and it's crucial that you don't skip this step. By keeping your trays clean and free of food particles and other debris, you'll help prevent problems with your treatment.
Keeping your Invisalign trays clean:
Helps prevent tartar and plaque from building up on the tray.

Helps prevent tooth decay and gum disease.

Keeps your smile looking fresh and clean.

Helps prevent unpleasant odors.

Reduces any discomfort caused by food particles getting stuck between your teeth.

Reduces any risk of infection.
How to Clean Invisalign Aligner Trays, Step-by-Step
Begin by washing your hands thoroughly.
Step One: Rinse
Rinse the tray with warm water. Use a toothbrush to scrub away any food particles or debris from the trays.
Step Two: Brush with toothpaste
Brush the trays with a toothbrush and toothpaste to remove any remaining debris. You can also use an ultrasonic cleaner for this step, but it's not necessary if you've already done step one.
Step Three: Soak
Soak the trays in a bowl of warm water and baking soda for at least 10 minutes before brushing again. This will help loosen up any stains that may be present on the trays.
Step Four: Rinse (again)
Rinse your Invisalign trays a second time before using them again.
Learn More About Invisalign
Invisalign is an excellent option for many patients. They offer many advantages over traditional metal braces, and our patients have been thrilled with the results.
If you'd like to learn more about Invisalign, contact our office today at 202-922-2900. Or schedule an appointment online.
Recent Posts
Contact Us
Blossom Dentistry
2600 Virginia Ave NW Suite 501
Washington, DC 20037
Monday | 8am - 4pm
Tuesday | 8am - 4pm
Wednesday | 8am - 4pm
Thursday | 8am - 4pm
Friday | 8am - 4pm
Saturday | Closed
Sunday | Closed